Multilanguage phone/email consultation
AIA provides telephone consultation service for foreigners in Akita.
For example, the matters regarding residence permits, visa, passport, naturalization, labour, medical, education, Japanese class, interpretation/translation, driving license, domestic violence, international marriage, divorce and etc.
Please feel free to contact us.

Opening hours
Mon–Fri 9:00 a.m.–5:45 p.m.(Japanese)
Every Thursday 1:00 p.m.-5:00 p.m. (English, Chinese, Korean, Japanese)

※ Closed on Saturday, Sunday, public holiday, Year-end and New Year Holiday.

※ Open on every 3rd Saturday of each month, and closed on the following Monday.

Phone number
018-884-7050
E-mail
soudan21aiahome.or.jp
You can also contact us by email and please understand that it might take time for response.
Languages Available
 

Chinese
English
Korean

Every Thursday 1:00 p.m.–5:00 p.m.


※Other date beyond above schedule can be arranged upon request.
Please do not hesitate to contact us.

Japanese
Mon–Fri 9:00 a.m.–5:45 p.m.
Tagalog
Vietnamese
Regardless of any weekday and time, reservation is required.
Regional Consultant for foreigners
Foreigner consultation center has arrange consultants in every district within Akita prefecture. Foreign residents can consult with those consultants when facing problem in daily life. Basically, communication is available in Japanese only.
Consultant list and service area.
Supervising Area
Consultant
Telephone Number

Availability Times

Mon
Tue
Wed
Thu
Fri
Kazuno City
Kosaka Town

安保 真希
Ambo Maki
070-3320-8739

Tue, Wed, Sat 10:00 - 17:00
Odate City
Kitaakita City
Kamikoani Village

小林 幹子
Kobayashi Mikiko
090-4319-3695

10:00-
16:00
-
10:00-
16:00
-
-
Noshiro City, Happo Town
Fujisato Town, Mitane Town
北川 裕子
Kitagawa Yuko
090-3640-0459
10:00-
17:00
10:00-
17:00
10:00-
17:00
10:00-
17:00
10:00-
17:00
Oga City, Katagami City
Ikawa Town, Gojome Town
Hachirogata Town, Ogata Village
工藤 紀代子
Kudo Kiyoko
090-4045-8690
10:00-
17:00
10:00-
17:00
10:00-
17:00
10:00-
17:00
10:00-
17:00
Akita City
小林久江
Kobayashi Hisae
090-3983-8498
11:00-
16:00
-
11:00-
16:00
11:00-
16:00
11:00-
13:00
Yurihonjo City
Nikaho City
藤嶋 英子
Fujishima Eiko
090-2360-4817
9:30-
17:00
9:30-
17:00
13:00-
17:00
9:30-
17:00
9:30-
17:00
Daisen City
Semboku City
Misato Town

鈴木 通明
Suzuki Mitsuaki
090-2276-1113

10:00-
16:00
10:00-
16:00
10:00-
16:00
10:00-
16:00
10:00-
16:00
Yokote City
星野 明美
Hoshino Akemi
080-1858-2126
9:00-
17:00
9:00-
17:00
9:00-
17:00
9:00-
17:00
-
Yuzawa City
Ugo Town
Higashinaruse Village
浅利 真由美
Asari Mayumi
090-5825-5254
10:00-
16:00
10:00-
16:00
-
-
10:00-
16:00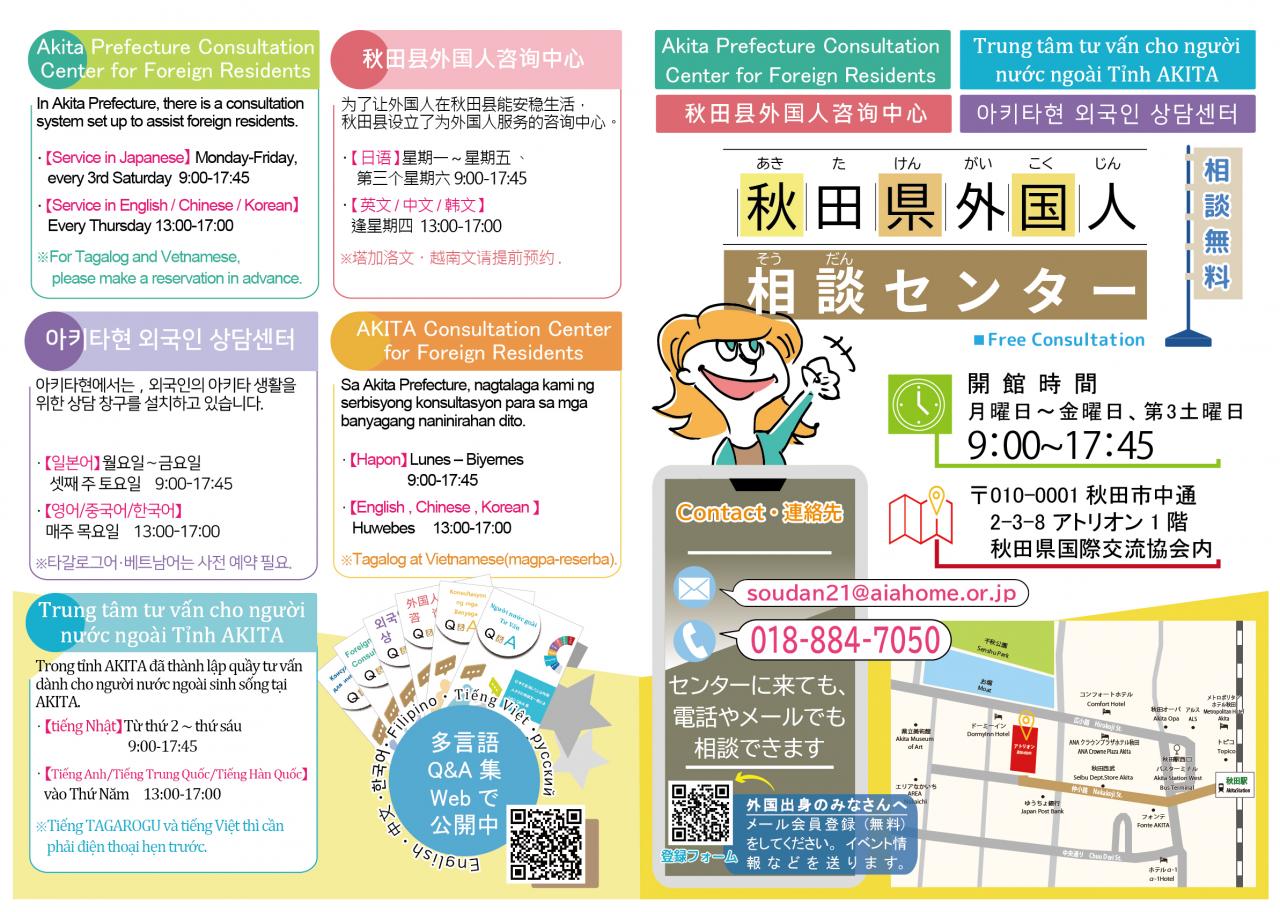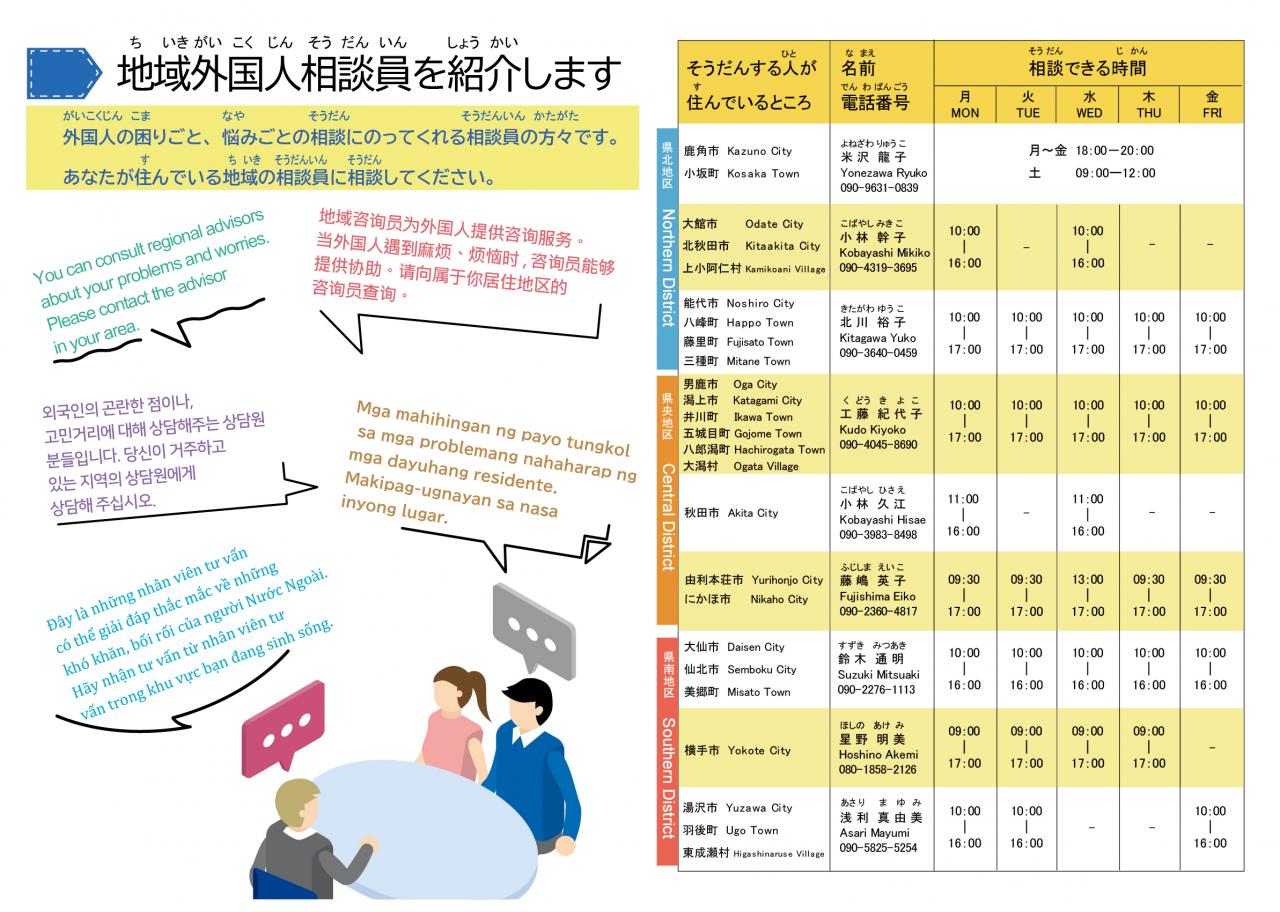 Foreigner consultation center leaflet download here